Pittsburgh CPR is a proud, authorized dealer of Philips AEDs!

As an added service to our customers, Pittsburgh CPR is proud to offer top quality Philips HeartStart AED's! Philips offers the
only
AED on the market that does
not
require a physician's prescription, saving you time and money! If you are interested in purchasing an AED or AED accessories, please
contact our sales team
!
---
Philips HeartStart OnSite AED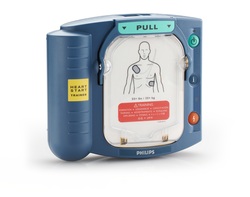 The Heartstart OnSite AED by Philips is the only AED available in the United States without a prescription from a licensed physician, saving you money! This easy to use, life saving device was designed for the lay rescuer with little to no experience, and offers CPR prompting during use. Upon being powered on, the device gives audible instructions, walking the rescuer through each step at his or her own pace, and reducing stress in a life or death situation. The HeartStart OnSite AED comes with a standard 8 year warranty from Philips!

Pricing starting at: $1,300

---
---
Philips HeartStart FRx AED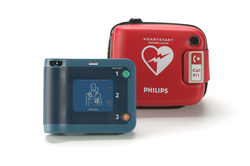 The HeartStart FRx AED by Philips is designed for use by professional rescuers, and requires a physician's prescription and oversight to be purchased. The FRx is easy to use, and recommended for athletic facilities, locations with both adult and child clients who may require CPR, as well as those who believe the device will be in frequent use. A special pediatric key can be purchased for the FRx allowing the adult pads to be used on anyone under 55 lbs. Voice guidance and CPR prompting come standard on the FRx!

Pricing starting at: $1,900



---
---
AED Carrying Case Options
OnSite Standard Carry Case

The OnSite Standard Carry case protects your investment, while providing space for spare pads, a spare battery, a pair of scissors, and instructions for use!

Price: $133

OnSite Slim
Carry Case

The OnSite Slim Carry Case protects you investment while providing space for a pair of scissors and instructions for use!

Price: $112

Waterproof
Carry Case

This waterproof case is available for the OnSite and FRx unit, and will protect your investment in the harshest of conditions! This case is recommended for first responders and outdoor use.

Price: $227

FRx Carry Case

The FRx Case is more durable than the OnSite case, and is specifically designed for the everyday wear experienced by first responders.

Price: $147
---
Philips HeartStart AED Accessories

HeartStart Battery

The HeartStart replacement battery works on Philips' OnSite and FRx AED's and sports a 4 year warranty!

Price: $169

---


Fast Response Kit

This fast response kit from Philips includes a rescue pocket mask, pair of nitrile gloves, safety razor, towel, and a pair of scissors, ensuring that you are prepared to provide emergency CPR and First Aid!

Price: $46

---

Adult SMART Pads
(OnSite)

New pads for your OnSite AED should be purchased and replaced every 2 years to ensure your device will function properly when you need it!

Price: $67

---


Pediatric SMART Pads (OnSite)

This pediatric Smart Pads cartridge is quick to swap with your adult Smart Pads to use your Philips HeartStart OnSite AED on anyone
under 55lbs!

Price: $108

---

Adult SMART Pads II (FRx)

Philips' FRx Smart Pads II should be purchased and replaced every 2 years to ensure your device is ready when you need it!

Price: $56

---


Pediatric Key (FRx)

This pediatric key, used in conjunction with your FRx Adult Smart Pads II will allow a rescuer to safely operate an FRx AED on anyone under 55 lbs!

Price: $108

---
---
Philips Wall Mount Accessories
Standard Wall Mount

Philips' standard wall mount ensures that your device is visible and available for use in the event of an emergency!

Price:$ 98

---


Premium Alarmed Cabinet

With an audible and visible alert, Philips' premium cabinet will provide you with the piece of mind, knowing that your AED is secure while available for use! This premium cabinet can be hard wired into your facility's existing alarm system to automatically alert emergency services! (AED and carry case not included)

Price: $ 440

---

Standard Alarmed Cabinet

With an audible alarm, Philips' basic cabinet provides protection for your device, while ensuring it is readily available for emergency use! (AED and carry case not included)

Price: $253

---


Semi- Recessed Premium Cabinet


The semi-recessed premium cabinet by Philips is perfect for facilities with narrow hallways! This cabinet has all the features of the premium cabinet, while protruding only 3" from the wall! (AED and carry case not included)

Price: $469


---
---